Amy Aldrich holds a Master's degree in Transpersonal Counseling Psychology from Naropa University in Boulder, Colorado. She is a licensed professional counselor but not currently practicing in that capacity. Before entering the consulting field she worked therapeutically with adults in outpatient treatment and with adolescents and their families in a therapeutic boarding school environment.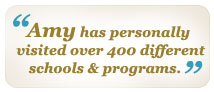 Amy has been working with children, troubled teens, struggling adolescents and their families professionally for over ten years. She understands the unique and often complex challenges of parenting. Amy's goal is to help provide carefully tailored and thoughtful recommendations to each client, according to their specific needs and objectives. She has worked with hundreds of families and has placed hundreds of children in academic and therapeutic settings. Amy has also written "Mindfulness Awareness" curriculum for struggling teens.
Amy's direct knowledge of schools and programs nationwide is invaluable. She has personally visited more than 400 schools and programs, touring the physical facilities, speaking with staff and understanding their specialties and experience. Having worked at a therapeutic school with children and adolescents and their families she knows what to look for, what questions to ask and what results can be expected in each setting. This ongoing research has evolved into a complex database covering details on hundreds of schools and programs and includes Amy's insights from her visits, along with the experiences of both clients and other professionals in her network. This unique database is a valuable tool for helping identify the most appropriate schools and programs for each of her clients.
As a professional therapist Amy has a thorough understanding of diagnosis, assessment and treatment. Her calm, caring style allows her to easily connect with both families and their children.